The time has come! I've actually done it! And it's successful this time! Are you ready for it?
Let's begin.
[Warning – things might get a little pornographic.]
As you can see from the title, I recently had a successful threesome – with a male and a female. But let me first give you a back story on how this came about.
I've been meeting a lot of people lately through some dating apps. The ones I have at the moment are Tinder (duh), Plenty of Fish, Bumble, Her and Wapa; I call them my Hunting Apps. I've met a few men and women through these apps; some for a meal or coffee, some for a movie or for drinks and others for just casual sex, you know the drill.
A couple of months ago, I met this guy for a movie, let's call him "Jack". After the movie, we had a few drinks and then we hooked up. After that, we stayed in touch; he'd come over once in a while to have drinks at my place and watch movies together. Suffice it to say, we'd become good friends. Friends who sometimes fuck, of course. But we didn't only just have sex, we told each other about our work and life and I mentioned that I wrote for Adult Press. That piqued his interest so I got into detail about my column and how I write about my real life sexual encounters. And he said he'll read about them later, which is fine.
A few days later, he texts me saying, "Zoey (my name spelled wrong) you poor girl. Being let down with a threesome. I think we should change that." I got excited about it. [And I have screenshots of the texts to prove it!]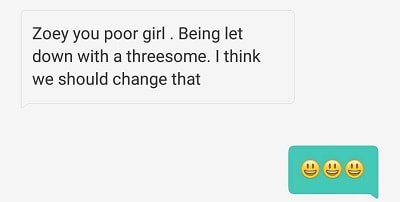 About a month later, I get a message from Jack, asking me what I was doing tomorrow and whether I wanted to make my fantasy come true. Of course my response was – "Where and what time?". One of his responses was "bring your toys".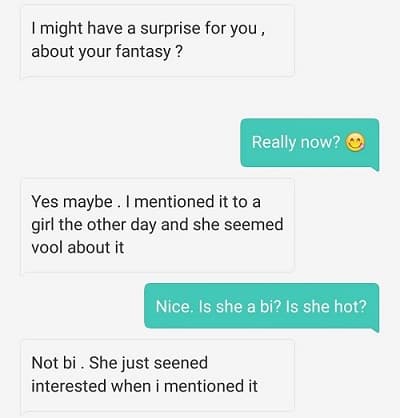 Now let's fast forward to that afternoon. He came and picked me up from my place and we drove back to his place. He introduced me to this girl, let's call her "Jill", they've been dating for a while now. Jill was barely saying anything, she was so nervous; I can tell from her body language and from her lack of contribution to the small talk. So we started drinking on the couch in front of the TV; Jack and myself having beer and Jill was having wine. Jack sat between us on the couch while we were drinking. And after about two drinks each, things started to heat up.
Jack started to touch both of us, as I was finishing my beer. So I quickly finish my beer as he started to kiss both of us and then I started kissing Jill. Then we all started to take each other's clothes off, still on the couch, clothes being thrown everywhere. Hands going everywhere. Mouths going everywhere. And then Jack pulled both of us into the bedroom.
We got on the bed. Jack and I start kissing, touching and licking Jill all over. We focused on pleasuring her. She's lying on the bed, Jack focused on the bottom half of her body while I was on the top half and then we switch places. At times she'd be in between us, her head would be between my legs while Jack's pounding her from behind. And we'd shuffle our positions and keep going. At one point, I brought out my toys, I demonstrated how to use them and then I used them on Jill. The three of us were quite loud; thank goodness Jack's neighbours didn't live too close to him.
After a good long time, touching and pleasuring each other, the threesome ended. We cleaned up and got dressed, sat back on the couch and had another drink. I looked up my bus time table to head back home because the next day was a Monday. We decided to go to the pub up the road to have a few more beers while I waited for the bus. After that, they walked me to the bus stop, we said our goodbyes and I came home.
I was thrilled that I got to have a successful threesome this time! Last time was an unsuccessful hot mess of a disaster. I don't want to talk about it but you can read about it here.
And on this note, I will leave you, dear readers. I hope you enjoyed my successful story as much as my unsuccessful one. I've been seeing a lot of people lately so I'm sure I'll be writing something new soon for you as well. Until then, that's all folks.