Hit the lights! Team Adult Press is in the house SYDNEY@SEXPO'20TH Anniversary' let the games begin. Sit downs with Miss Samantha X & Aubrey Black, goofing with Mr. Ricci Guarnaccio from Geordie Shore, mooching with Mao Hamasaki, skin on skin consultation with Doctor Suzan and last but not least, life drawing with the multi-talented PRICASSO. Decks are full stakes high as Team Adult Press embark on an epic journey into the deepest, dark hinterland of SYDNEY Hordern Pavilion for the last time with rumors of SEXPO 2017 going interstate, international even interstellar. Bring it on SEXPO 2016, the bases are loaded time to smash it out of the park.
Our SEXPO 2016 Stories
X MARKS THE SPOT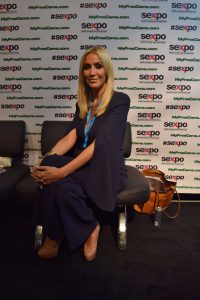 Samantha X, acclaimed author, single mom, ex-journalist and in-demand Sydney Madam proudly dedicates her first novel entitled HOOKED to the empowerment of Australian women and to the mentoring of doting fans and aspiring courtesans alike through her slick, wildly popular website; www.samanthax.com.au
Kindly joining us for a quick tête-à-tête at SEXPO 2016 we asked Samantha what she liked most and least about the journalist life and the question on everyone's lips do her female escorts make more bank than their male counterparts? "Yes it's the only industry we can charge more than men, I was a journalist for many years and later became an escort at the age of 37, I am now 42 and something I learnt is that the sex industry isn't just about sex" says Samantha. In a time of global recession, soaring inflation and rising divorce rates more often than not it is about her girls lending an ear, providing a shoulder to lean on, compassion outranking passion as the defining bedroom quality. "When I wrote my book we were inundated with emails from women around the world who wanted either to be escorts or wanting tips on how to be sexy and how to keep a relationship alive, usually women in their 30's, 40's, even 50's" she adds.
What is the most important characteristic, quality for an Angel to demonstrate, to acquire? "Compassion and warmth. I don't necessarily have beautiful women on the books, knowing how to hold a conversation, how to be a good listener and not to judge men on appearance, these are the real qualities I look for" Samantha explains. The questions flow. Does the Hollywood machine encourage or deter against negative stereotypes? Are hipsters damaging the world economy? And the inevitable, if Justin Bieber called up seeking advice on how to date older women what one piece of advice would you bestow upon him? For all the answers and much more visit the mothership website; www.samanthax.com.au
LITTLE BLACK BOOK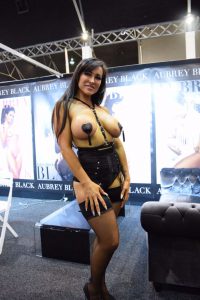 Former competitive athlete, fitness model and international escort Aubrey Black is poised to take Australia by storm. Cutting a truly intimidating figure looking remarkably like Catwoman if Catwoman was dressed by Karl Lagerfeld the Kiwi born beauty struts her stuff with aplomb after recently returning from a trip to the UK making a much awaited debut in adult feature film.
You are in the process of writing a new book? "Co–writing" What is the title of the book? "Highly unlikely friends. They may tweak that. It's the story of how people from two completely different worlds become very good friends" Do you have a writing hideaway or writers retreat? "Home. Sitting in bed I get a fleeting thought and it flows" Have you always been Sydney based? "No I am NZ born and bred, I come to Sydney for work a lot when I'm not in the US of A!"
How do the AUS and US markets differ in terms of audience response or audience expectation? "I think readers in both markets will be attracted to the sex, scandal, drama and to the elements of truth intertwined in the story, which takes me back to my very first client, he was a professor by the time he was very young, should have become a millionaire many times over yet his addiction to a life in the fast lane got in the way. I called him the collector but you will have to read the book to find out the rest of the story" she laughs. 
Without missing a beat Miss Black reminds us that statistics rank New Zealand women among the naughtiest in the world and regularly dares her willing audience to put the numbers to the test. A Gemini, non-smoker and seafood lover, her personal motto "Lock eyes and focus on nothing but instinct, what follows is raw, real anything but planned!" But don't take our word for it find out for yourself at the award-winning website: www.aubreyblack.com
GEORDIE SHORE, HOME AND AWAY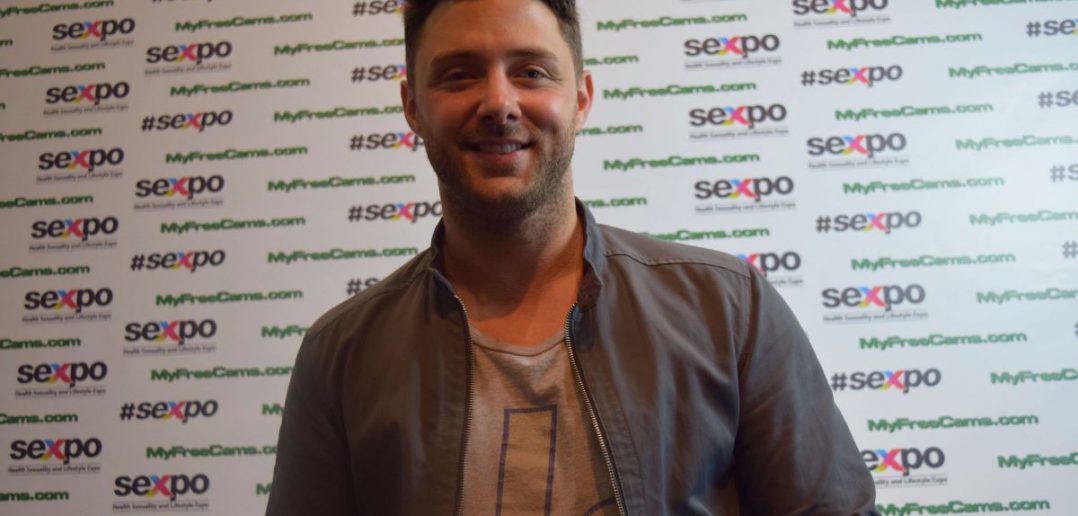 Geordie Shore, British spin off of the American reality hit Jersey Shore, may not be as well known to Aussie viewers as fan fav 'Home and Away' but if original cast member Ricci Guarnaccio has anything to do with it we will soon be madly tuning our sets to 'Australia's Ultimate Worldie' the new show scheduled for December release that Ricci will be hosting with ex-Pussycat Doll Melody Thornton. "Australian girls are naturally very pretty, Margot Robbie is the full package" admits Ricci star of Geordie Shore, Celebrity Big Brother and Ex on the Beach. 
Ricci is so taken by this the land of sun and surf, he has been camping down under since November 2015. "Everybody properly looks after themselves here, so they're all in great shape" he confides. Ricci and Melody will visit 20 Aussie cities on a mission to find the male or female they will crown 'Australia's Ultimate Worldie'. The reality star explains in his trademark Geordie twang that a 'Worldie' for the layman is not just about banging looks it's about charm and charisma. "About being an epic human being" he laughs. Ladies and Gents Mr.Ricci Guarnaccio coming to screens near you.
TURNING JAPANESE? I REALLY THINK SO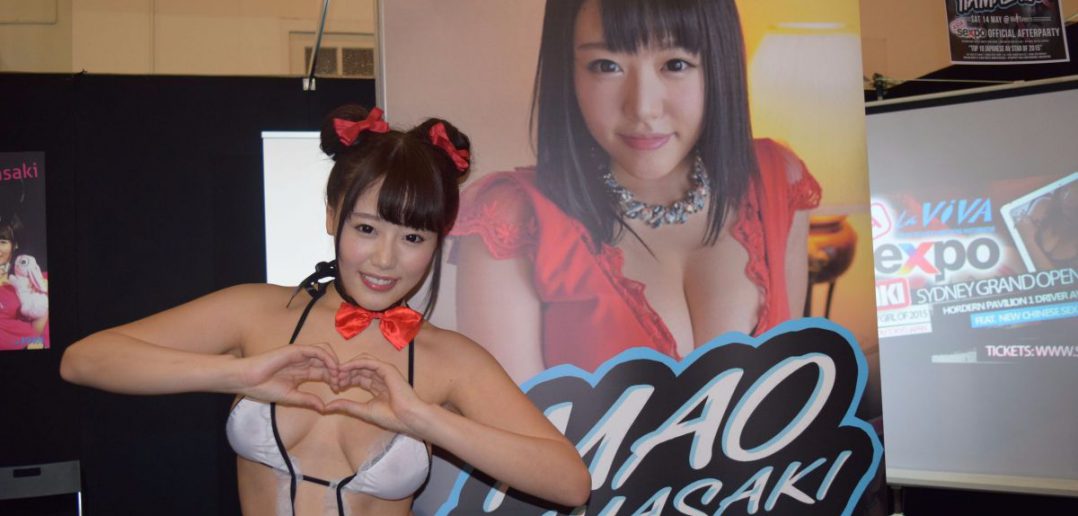 Cute as a button and with a face you want to take home to Mommy, Japanese rising star Mao Hamasaki looks more Pokemon than Porn star dish. With a 59cm waist and 85cm hips the petite plaything rocked the stages of SEXPO 2016 wriggling and giggling her way to crowd favorite, signing autographs and engaging a personal translator to answer questions of fans new and old.
Mao Hamasaki is one of the top ten adult stars in Japan and fast blazing a trail across Asia as a pintsize goddess of adult screen and stage. "Pacific Rim has never been so palatable" jokes a satisfied onlooker. How very tongue in cheek. The 22-year old porn star already has over 360 movies under her belt not to mention countless accolades and industry recognition awards. With skin like a porcelain doll and the joyful smile of a Botticelli her fans are in 7th heaven. Turning Japanese? I really think so.
PRICASSO, STROKE OF GENIUS
Ever wander out of your comfort zone? Just ask PRICASSO prima donna artist famous for grabbing his junk while giving new meaning to the term 'members only' and unapologetically stroking his way to stardom @SEXPO'20TH Anniversary' show'. With the full rub of the green and a virtual rainbow of watercolors at his disposal PRICASSO skips merrily down the yellow dick road head held high. Stage fright clearly not an issue for this old hat PRICASSO travels the world in some style, painting celebrities and flogging enough custom made portraiture to fill the Louvre twice over. Justin Timberlake eat your heart out Son.
HERE'S LUCIE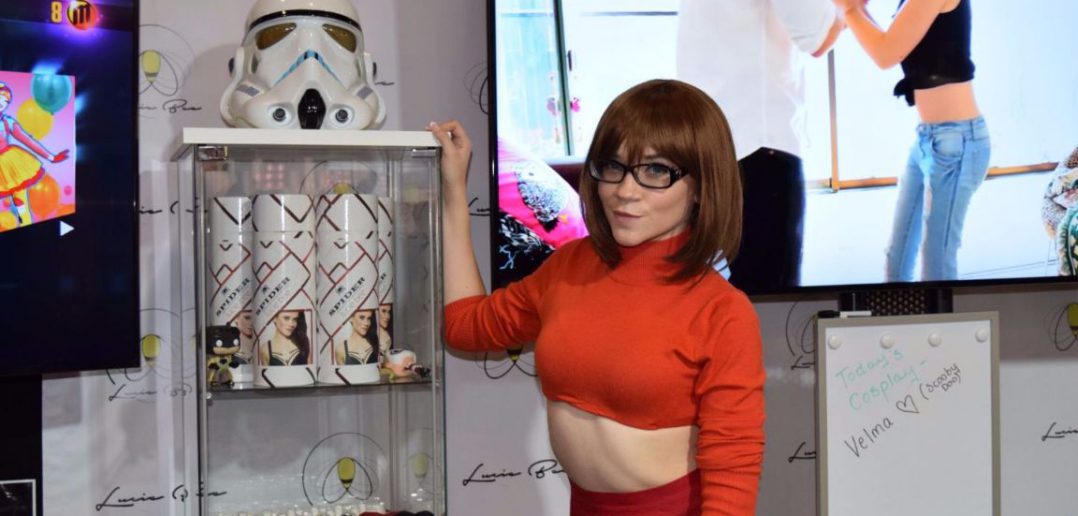 Introducing Lucie Bee the adorable pocket rocket, COSPLAY competition host and founding practitioner of her own trademark brand of potty-mouth geek speak. A SEXPO regular, kinky call girl and high ranking Australian porn star "there's no one definition of sexy" she reminds us while fidgeting to the beat, chewing gum like a state trooper and casually rocking out her polished roleplay of cerebral, teeny weeny sexpot. Unsurprisingly enamored with the hot, academia topics of gender politics, open relationships and erotic mind association, she is no stranger to the art of deep and meaningful conversation and describes herself as a self- confessed explorer at heart. Safe to say her resume will send most I.T nerds running home to mamma screaming mascara tears of faux penis envy and mixed admiration and bless her wee little soul she wouldn't have it any other way.
THE RETURN OF CAPTAIN AMERICA
Move over Coldplay COSPLAY has come to town. Hosted by diminutive pocket dynamo and geek goddess of all things playful Lucie Bee, with the arse-sistance of sordid sidekick Kim Cums, SEXPO2016 launches the inaugural SEXPO COSPLAY competition. I mean who doesn't enjoy dressing up in zany outfits of their most memorable and sexiest Superheroes, Supervillains and Supervixens. Yes we were lucky enough to distract Captain America for just a few nano-seconds from his busy schedule of saving the United States of SEXPO from the clutches of evil, "Why do you come back to SEXPO every year?" we asked the masked man. "Ask me next year" he replied muscles rippling. Thanks a bunch Captain America we might just do that. Smash Cut.
BRIDGE OVER MADISON COUNTY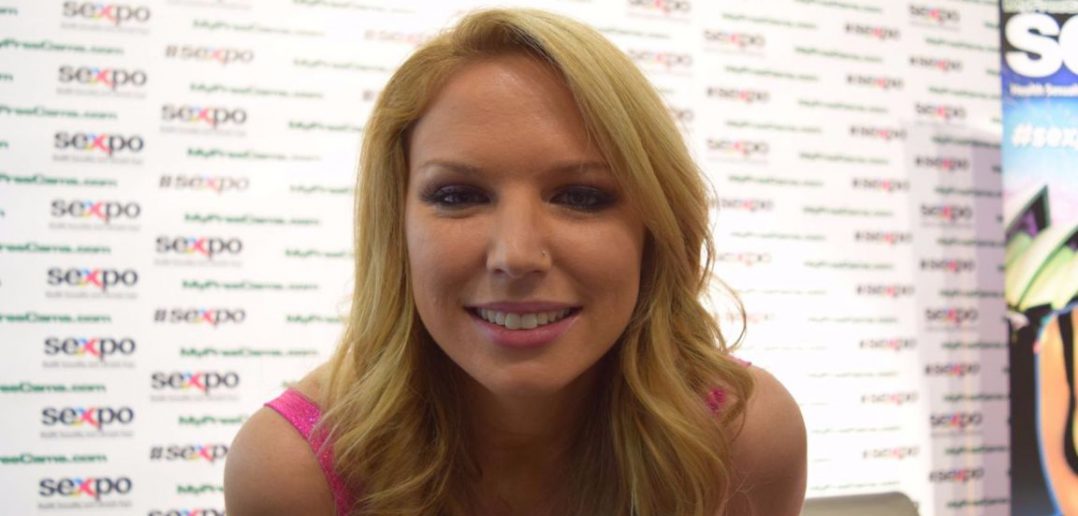 Named the '2015 HOTTEST PORN STAR' by PEOPLE Magazine Madison Missina has enjoyed longtime and enduring success mixing cheery personality with keen business mind. "This is my crossover SEXPO" she says, "All my brands are here, I'm doing sex therapy at the hero store, showcasing the installation RAW as a main exhibit, giving seminars on female sexual self-esteem and tutoring on porn literacy; a framework for newcomers to the industry to make porn, to identify with both the positive & negative impacts of mainstream pornography while differentiating between porn sex and real sex" she explains. One thing is for sure Madison means business and is doing a great job of balancing the key roles of sex educator, social activist and adult star.
In an age of young people engaging in such things as 'sexting' and internet browsing it speaks volumes that the education industry is seeking counsel with the sexperts, "I specialize in sex education" Madison continues "I go out to the schools and talk about the differences between performance and intimacy between porn sex and real sex, I feel like it is important work and something I would certainly have benefited from as a teenager growing up in, you know, in a sheltered generation." Since taking a public stand in March 2014 the screen performer only shoots adult films which displays condom use and devotes time behind the scenes to promoting sexual health and OHS standards.
"I was lucky as a child I read history books, watched amazing old movies about geishas and courtesans, to me these were empowered women that got to live outside of the Patriarchy which appealed to me in a powerful way. Later studying shame and the consequences of social stigma both on the individual and on our societal systems, I became an ethno-methodologist meaning I study and explore the world that I live in while also seeing myself as a subject". Madison Missina's controversial installation RAW involves a highly intimate series of black and white portraits designed to strip back the metaphorical layers exposing a human form within.
COUNTING SHEEP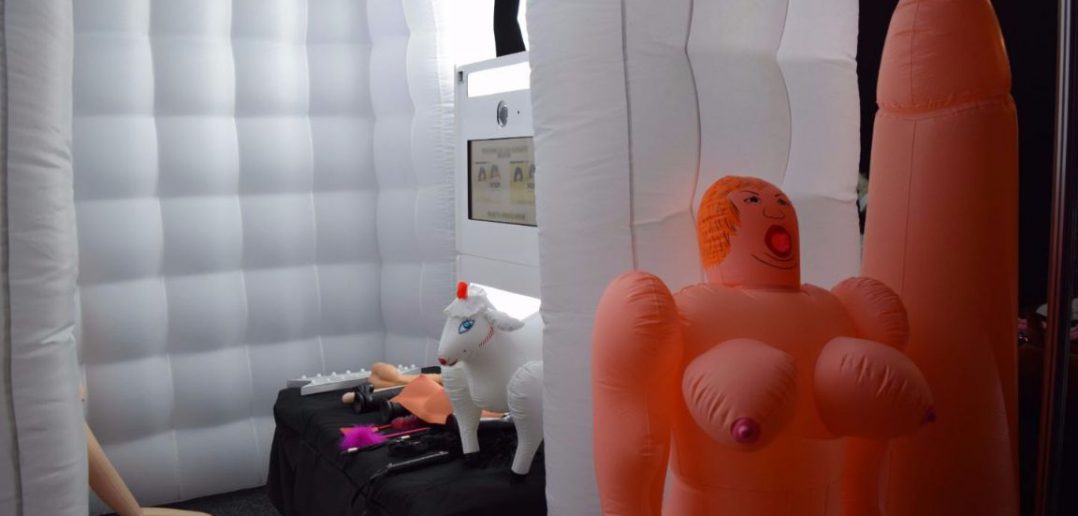 SEXPO2016 '20TH Anniversary show' proudly presenting a brand new concept Adults Only Naughty Booth shamelessly peddling inflatable wares, night time accessories and other glorious, must have titbits. Oh and Dolly the Sheep, "People love posing for a shot with Dolly" says Naughty Booth &SEXPO2016 hottie Kate King. For special event booth hire go to www.outwestphotobooths.com.au
THE HYPNOTIST
No SEXPO event would be complete without a touring comic hypnotist and Anthony Laffan is the real deal, a full time International performer with 25 yrs touring experience. He has done shows across four continents drawing on the power of the audience imagination. With diplomas in Advanced Stage hypnosis, complete mind therapy and hypnotherapy & psychotherapy, Anthony is now a clinical hypnotherapist and founder of the Hypnosis Health Clinic where he and his wife direct a series of self-help hypnosis audio programs. A master in the art of inducing trance Anthony combines the right blend of performance art and comedic timing to create a truly modern masterpiece of stage drama.
SKIN ON SKIN
Is there a Doctor in the house? That would be Dr. Suzan Bekir practicing G.P and cosmetic medicine expert offering special attention to female concerns of anti-ageing, epidermal rejuvenation, laser treatment and pressing matters of sexual performance, stamina and endurance etc.
Also appearing as S.H.A.R.E guest speaker on the subject 'What's new and trending in cosmetic medicine and the new secret treatment empowering women to never reach their expiry date' Dr. Bekir is one of the founders of TAYLOR CLINIC collaborating across the landscape of Truth, Science and Beauty, inspiring her followers of cougar confidence and reminding her NSW femme population that life often needs a little reawakening.
'How to make the most of your mouth', 'Get your sex drive out of neutral' and 'Hairless and Painless' all running topics for TAYLOR CLINIC blog discussion. Dr. Bekir insists low libido is a complicated condition citing new studies under way and new products becoming available with relevant prescription. With offices in Double Bay, Bella Vista & Wollongong TAYLOR CLINIC will soon cater to the wider public in ways seldom envisioned. "In 2016 cosmetic medicine doctors are spending more time talking about how small improvements to your smile can really make high impact, a beautiful smile packs a punch" Dr.Bekir informs. TAYLOR CLINIC invites you to attend a day of pampering and pleasures 'Super Sexy Saturday' May 21st@TAYLOR CLINIC Double Bay  www.taylorclinic.com.au
WITH A LITTLE HELP FROM MY FRIENDS
As the 2016 SEXPO'20th Anniversary Show' revelers mingle, hydrate and swap stories Team Adult Press takes the opportunity to pounce unearthing tall tales, personal conquests and favorite acts among other things. Photo-op specialist and resident tweeter extraordinaire Scotty will tell you a picture is worth a 1000 words. And a spur of the moment, no nonsense, no frills Adult Press SEXPO2016 snap is worth double.
Save