The social media fuelled tidal wave better known as Pokémon Go continues to roll effortlessly into shore converting everything and everyone in its wake into yellow-clad, crossfit-mad, Pokégym-fit, Zubat-spotting, Psyduck-catchers! And what better place to join the merry madness than this coming weekend Sydney CBD "Winter-Warmer" Pokémon Go pub crawl hosted by Ana Kin Sky Walker at a secret meeting mystery location to be announced shortly:- so watch this space! Not advisable to poké on an empty stomach, if a wild Pokémon appears while players are grouping at the bar all must drink no exceptions +Pokéball missed shots will result in on the spot Pokécoin liquid penalties + yes- in room egg-hatching equals 3 x drink nominations!
Australia is not the only Po-Po-country undergoing suburban chaos and frantic stampedes rarely seen outside Game of Thrones Season I. In NYC' much loved Central Park over the weekend all Pokémon hell broke loose @reports of a rare find lurking in and around the baseball diamond area, it didn't take long for the revelers to arrive en masse eagerly panning for a little Pokémon Go- 'Gold'.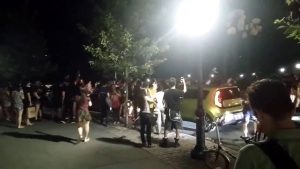 And a word of warning peeps to please put safety first! In Florida U.S.A the first shots have been fired by a disgruntled homeowner discharging two to three bullets from a handgun at a vehicle trespassing on his country property. A vigilant player is a serious player. In this case the young inhabitants of the vehicle had opted for silence but bullet holes in the bumper, back wheel and hub cap were later reported to local police by the driver's parents. Pokémon Go implores all players to travel out of their comfort zones but not far enough to catch a live bullet!
In Singapore tempers have flared and the first job loss casualty looks to have been reported? After posting a string of obscenities at the realization that the Pokémon Go App. was not available for download in Singapore, an Australian expat worker has been stood down for a string of profane ranting deemed not to reflect or be consistent with company principles and values. The SEO worker who cannot be named for legal reasons was suitably irate that the Pokémon Go App. was available in Australia, New Zealand, Japan and U.S.A but not at his work location of Singapore. "You can't f*****g catch Pokemon in this piece of f*****g s*** country!"… Nothing more to be said there really.
In every arena you have beginners, intermediate and expert level, some of the Pokémon Go experts are taking to ebay and other marketplaces to auction off high level accounts of Pokémon rare finds, a clever method for the beginner to make his/her way up the food chain. Eric Schweitzer, the chief executive of a gaming platform had this to say about the unravelling phenomena "I've never seen so much attention towards a game like this at such an early stage!"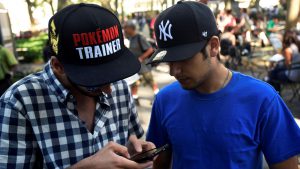 Full credit to Nintendo, statistics show Pokémon Go users to be officially Pokéballs deep clearly outnumbering porn users for the period of July 10-17, quite a feat with Pikachu the face to watch as the most sought after character. On Google Trends mapping charts Pokémon Go has hit the highest scores possible since July 6th and shows no signs of subsiding topping search engine leader boards in Netherlands, Canada and Costa Rica for a 2nd week running. Categorically the most popular game in history it appears that the sky is the limit for Pokémon Go.