By Jonny Jonsson
The Sydney Oyster Festival 2016 returns to the raunchy Morrison Bar & Oyster Room from August 1st – 31st with special guest Executive Chef Sean Connolly hosting a 1 x month long feast of showcasing the hottest 'Shuck'! This year's Sydney Oyster festival promises a fashionable ensemble of events, activities and master-class sessions to wow fabulous foodies, sexy girls and A-list restaurateurs alike. With over 20 varieties of Oyster on display the Morrison Bar & Oyster Room will play home to Pacific Oysters, Sydney Rock Oysters, the giant Jurassic Oyster and Angasi Oysters to name but a few. An emphasis clearly on quality, provenance and promotion. The best Oysters in the country direct from farm to restaurant with appearance and taste to be envied, fresher than a Sydney escort at a bridal shower and graded for benchmark excellence by the Royal Agricultural Society for Oyster Judging Standards of Australia. Nowadays Aussie Farmers regularly produce truly amazing Oyster harvests and delivering unforgettable experiences to Oyster lovers while at the same time generating profitability for homegrown Australian Farmers.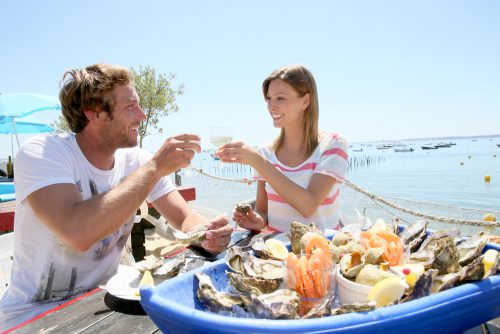 Widely considered as a food aphrodisiac Oysters are high in zinc and have a reputation for being active players in the love & fertility game, research findings pointing to hormone triggering amino acids that may or may not occupy a role in the love erotic however overall general consensus being that the burden of proof could hinge on the raw presentation of the Oyster itself? Scientists say that raw oysters are truly aphrodisiacs and now is the best time to eat them and rumour has it the 18th century lover 'Casanova' would eat 50 raw oysters for breakfast to get himself primed for manly passions? In a more recent blog survey a thirty something thread contributor lamented "I had a dozen once and only seven worked!" Ewan Mcash, a local marine scientist and Australian director of nationwide Oyster grower/distributor Signature Oysters describes his passion as using modern technology and innovation to balance sustainability and supply while creating memorable social and culinary experiences.
According to Wikipedia the word Oyster is used as a common name for a number of different families of saltwater clams, bivalve molluscs that live in marine or brackish habitats, some Oysters being commonly consumed others harvested for pearl. Ever since Casanova shared the secrets of his mystical and seductive prowess more than 200 years ago modern man has piled their plates with Oysters of all shape and sizes hoping to imitate the legendary love-merchant. Aloysa Hourigin a nutritionist with Nutrition Australia proposes "There are some components of Oysters that point to aphrodisiac qualities together with a generous serve of folkloric myth. When we eat Oysters our natural levels of 'dopamine', a neurotransmitter that stimulates the arousal centre in the brain, do increase, yet we shouldn't forget that the taste, shape and smell as well as the way Oysters are consumed may press the right buttons for some of us? The truth is, beyond these tasty ideas, the scientific evidence remains weak at best.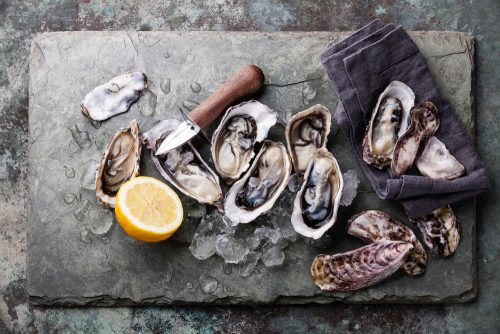 A group of Oysters is commonly called a bed or reef, each Oyster reaching full maturity by 1 year. The art of opening Oysters is called shucking and requires some serious skill involving the use of a special knife with a short, thick blade of about 5cm long. The inexperienced shucker risks injury if applying too much upward pressure, extreme care is recommended and or the use of heavy gloves! 'Shucking' is in fact a competitive sport in some nations, the World Championship taking place in Galway County, West Coast of Ireland.
According to popular blog Bad Girl's Bible, if you want your man to cry out with wild pleasure and beg for more before experiencing regular back arching, toe curling, screaming orgasm then you must learn the art of the Viennese Oyster position! An unusual and challenging exercise requiring maximum flexibility and suppleness, practice makes perfect is the key message and first timers be warned, a degree of discomfort is to be expected. No pain no gain and a win-win for those who like to be dominated. Oysters are most typically a love 'em or hate 'em type dish and this year's Sydney Oyster Festival is the place to get served, running Aug 1st-31st there will be something for everyone!