Australia is home to some of the hottest men the planet is drooling about. These men are dominating some of the most important sectors of society including sports, the fashion industry, Hollywood, and even the food and beverage market.
Voted on the top spot for the planets second sexiest men, Australian men are known for their tan colored bodies and beach-ready physique. Meet some of Australia's homegrown men whose attractive looks and athletic bodies will surely captivate your heart:
The Hemsworth Brothers, Actors
Chris and Liam Hemsworth have always been one of the most successful brothers hailing from the Land Down Under. Both known for their screen roles in Hollywood movies, the brothers were born in Melbourne. Chris was first to move in the US followed by his younger sibling Liam. Both of them have starred in hit movies with Chris taking the lead in the blockbuster movie "Thor" and its succeeding franchises. Liam has made hits of his own starring in The Hunger Games series and Love and Honor among others.

Hugh Jackman, Actor
Jackman known to be a sweet all-around guy from Australia has captivated everyone with his famous role as Wolverine in the X-men movie series. Born in New South Wales the acclaimed actor shows no stopping as he continuously dominates Hollywood with an astounding rendition of the roles he played. He has also been voted as the Sexiest Man Alive by People's Magazine in 2008.

Keith Urban, Musician
Dominating the country rock music is the New Zealand born Keith Urban. He has had a series of hits ranking in music charts around the world. Keith has been married to Nicole Kidman for almost 11 years and they have had two kids.

Jarrod Scott, High-fashion Model
Jarrod Scott has been making a name not in the athletics world, but in the high fashion industry. He once played as a professional football player in Australia but moved to the US to change career. This Australian model with super good looks has broken boundaries and stereotypes with his constant career shifts. Jarrod has received several accolades in the past including the GQ Man of Style in 2013. He is a staple male model for famous brands including Tom Ford, Givenchy, Gucci, and Chanel to name a few.

Curtis Stone, Celebrity Chef
Famous celebrity chef Curtis Stone has been making waves in the food entertainment industry as he has starred in several television cooking programs. He has also appeared in The Ellen DeGeneres Show, Oprah Winfrey Show, and some of NBC's primetime programs. Curtis was raised in Melbourne and is married to American actress Lindsay Price.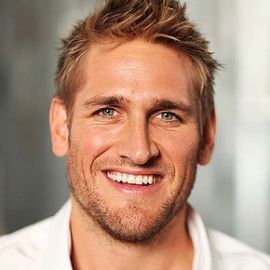 Jimmy Bartel, AFL Player
Born in Victoria, Jimmy Bartel is one of the most recognized Australian AFL players in the US. He has been an outstanding AFL player garnering several accolades and accomplishment in his early career. He has been recognized as All-Australian for two consecutive times and a Norm Smith Medalist among others. Bartel is also an advocate for a non-profit organization aiming to stop domestic violence as he grew up with an abusive father.

Eamon Sullivan, Swimmer
Eamon has been not just been noticed for his world record athletic performances but is also known for his dashing good looks. The Perth-born swimmer has been one of Australia's top swimmers with medal achievements from the 2004 and 2008 Olympics. He is credited to have broken the world record for 50m freestyle swimming category during the 2008 NSW Open Championship in Sydney.