When I sat down to write this account, I wondered if I even had very much to say about the experience. But then I remembered; this would be the tale of my Sexpo cherry being popped, and that's a much better deflowering story than any other 'first time' I could tell you about.
Last week, a couple of us from the Adult Press team were sent on a special mission; we flew from our Sydney office down to Melbourne for Sexpo. Buzzing with the thought of seeing the adult industry up close and personal, we set off on our adventure Thursday afternoon, ready to take what I like to call 'the Easter Show of sex' by storm.
Melbourne Sexpo 2015
Arriving to Sydney airport to find our flight delayed by over an hour, the dream of Sexpo seemed like it could slip through our fingers. Being late meant we'd have less time to stroll through stall upon stall of sex toys, porn stars, strippers and attractions. We knew we were so close to being among our people.
This year's Sexpo event featured international and local adult entertainers, from international porn stars Nikki Benz, Bailey Rayne and Marica Hase, to Australia's own Angela White, Amity Adams and Madison Missina. As you can imagine, there was still a great deal of kinky and kooky stuff that took our fancy.
As soon as we landed, we hopped in a taxi and went straight to the Melbourne Conference and Exhibition Centre. Well, nearly. We did stop at the hotel first to quickly run through the game plan: take photographs, conduct interviews, rinse and repeat.
Armed with some interview questions and a list of vendors colour coded to our interests, we went in. There we were, like kids in a candy store; actually, like ourselves in a candy store, we love candy. And there on pay day, no less. Although it was day one and the doors had not long opened, there were plenty of people filing in and enjoying the sights. I was pretty impressed with the adults-only interactive amusements. Whack-a-dick, the Sperm Worm, the Shafter and my favourite – Money Shot! It turns out double-ended dildos are pretty hard to throw into gaping holes, a fact I find oddly comforting.


Once we'd done a run-through and got our bearings, we started to chat to stallholders and get down and dirty. Pornhub's TwerkingButt was pretty impressive. It's the rear view you get during doggy-style sex, except it's not attached to someone you have to cuddle afterwards. I slipped a finger in, and for a whole five seconds it felt like it was just me and the silicone behind. TwerkingButt has two tight entry points, a warming function and controlled with an app. It can twerk to the rhythm of your custom music, vibrate and massage whatever appendage you insert.


A little dry for my liking, and as soon as I watched a girl give the TwerkingButt the 'spocker' (two in the pink, two in the stink) I moved along. A very friendly young man from Cloud9 Concepts used two Hummingbird Wands to simultaneously massage me and my colleague's backs. We spoke with Amity Adams, who said that the wand-style vibrators are her go-to toy. I've gotta say, if they feel anywhere near as good on the front as they did on the back, sign me right up.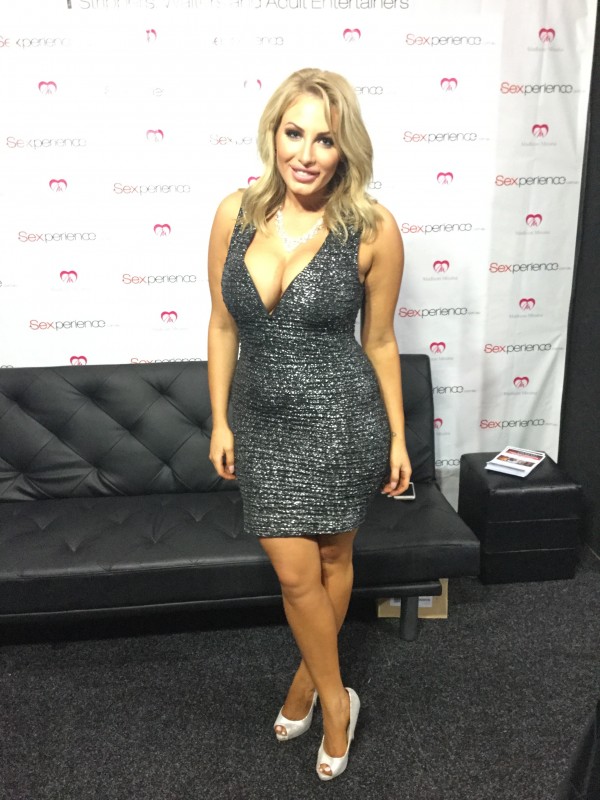 We watched Pricasso, the penis artist. I'm sure you can guess what he does. His portraits definitely come out much better than the ones I tried to do with my boob that one time, and he was certainly an interesting character to chat to. We waited until he was finished waving his own magic wand around the canvas, and he was polite enough to not offer his hand to shake.


The MyFreeCams girls were lovely, and Heidi V told me about how her success as a cam girl allowed her the freedom to quit her retail job, study engineering and buy her first home. They had plenty of free stickers, which I think look really good on my neighbour's bumper.
Sexpo defied all we'd been taught in school by having its own dinosaurs, which until recently I thought were extinct. Penisauris, the 8 foot walking penis dinosaur, apparently had a tendency to squirt on people. I don't think we caught a glimpse of it at all that night, but we did see Tittysaurus. Unfortunately she was quite elusive, and I came away with no actual photos of her.
The brand ambassador for System Jo, a knowledgeable young lady named Ngaio, gave us the rundown on their all-natural, vegan friendly and certifiably delicious range. System Jo and Dona by Jo are lines of personal lubricants, arousal stimulants and personal care products. Dona by Jo is a collection for women that won Body Care Line of the Year at the StorErotica Awards this year. Given how delicious the chocolate mousse kissable candle was, it's hardly a surprise.  
Before we left, we stopped in to see Lucie Bee and Kim Cums, two well-known escorts each with a foot in the porn industry. More than just a foot, actually. The girls have been producing their own porn for a little while, and had it on display for passersby. I think the only downside of chatting to them on Thursday night was we weren't around for their discussion panels. They had a lot to say about all things sex: feminism, Australian porn and how they're using Piggybank Girls, the first ever erotic crowdfunding platform.
Plenty of visitors gathered to watch Arianna Starr, an impressive aerialist twirl her body up, down and all around aerial silk. The male strip show from Cookies & Creme was enough to trigger even the most mild lactose allergies, but I don't think much would have stopped people from watching the men flex and do very sexy, very shirtless versions of the worm.
As we were heading out, Miss Nude World Isabelle Deltore took to the stage in a Master Chief costume. Even if her Halo themed performance didn't involve stripping, I was fascinated by her ability to strut and dance in that helmet.
Being at Sexpo on day one meant The Real Housewives of Melbourne personalities Janet Roach and Jackie Gillies hadn't arrived, and there were a few stalls that hadn't set up. All in all, I think the Adult Press Sexpo excursion was a smashing success.
I'd never seen so many fleshlights in one place, and I thank my lucky stars they were (nearly) all unused. Thank you to Sexpo and ClubX, and of course Melbourne for hosting us, and being so gentle with me my first time.
Save