Me & Mrs Jones, Australia's hottest adult boutique, has given us the inside scoop on what is flying off their virtual shelves (they're an online boutique) for Valentine's Day and it ain't chocolates in a heart shape box or a dozen red roses. (Though the ladies at the office say, don't you dare leave out the chocolate!)
Attention Dudes: we are making this holiday easy for you!
There are two particular pieces of lingerie that Me & Mrs Jones cannot keep in stock.
The numero uno (that's number one) seller is their Charmeuse and Lace Babydoll and no, a babydoll isn't a toy for children.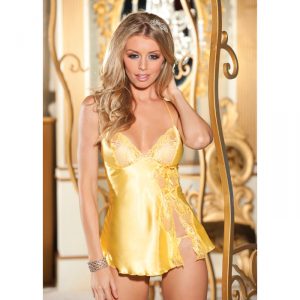 This sexy little number is hot. So hot that all the ladies in our office bought one. Maybe more. We don't keep up with what's in their closets. Dudes, charmeuse is a smooth silky dress fabric. We'd go into further explanation but know it would be a waste like telling a guy there is light blue and sky blue when all they see is blue. Anyways…dudes, this fabric will feel nothing short of amazing against the skin of your sweet partner. The babydoll also has a lace trimmed cut away and matching tie side thong. (YASS SEXY!) It comes in three rich colours: yellow or buttercup yellow according to the Me & Mrs Jones website, black, and cherry red. Honestly, yellow is so hot right now! Did you see Natalie Portman or Viola Davis at the Golden Globes?!? Just buy yours right now before they're gone!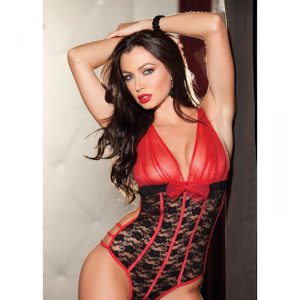 Next up is their Stretch Lace and Denier Teddy. Again, a teddy isn't a toy, but boy does this piece of lingerie make us want to curl up with it. Okay, not really curl up with it but throw it on and walk around like some bad ass diva channeling our inner Mariah Carey! We can't tell if we have a super girl crush on the model or if we're just in love with the sexy look of this lingerie. Dudes, just imagine your sexy lady in this piece! It has sheer peek-a-boo cups, adjustable shoulder straps, hook and eye back, and strappy back panty. It comes in four colour combos, but this item is so hot that they can't keep them all in stock! This writer's favorite is the red/black combo. Though the ladies in the office say magenta/black is where it's at!
If charmeuse and lace is too soft and sexy for you, they also have harder and naughtier lingerie like their Leather Lace Up Top with Garter G-String set from Allure Leather and the oh, so very, sexy Faux Leather Studded set.
What we love about Me & Mrs Jones is they have apparel for women and men and their sexy shoe collection doesn't just stop at the typical sizes for women but they include larger sizes if you are a drag queen in need of some sexy fuck me shoes too!
Give the sexiest gift you have ever given to your love this Valentine's Day! And just for Adult Press readers, Me & Mrs Jones is giving you 40% off with code ADULTPRESS (not case sensitive).
Don't put yourself in the dog house, go shopping now before it's too late!
Save
Save